Soccer Player Cards FAQ
Frequently Asked Questions
Q: How does creating and selling SoccerPlayer.Cards now affect my NCAA or PRO standing in the future?
A: First off, NCAA allows players now to earn money from their NIL (Name, Image and Likeness) making it legal for an NCAA player to do this. More importantly, you are most likely creating and selling your cards at junior or amateur level, prior to becoming NCAA or PRO, so there are no rules or regulations other than approval from your team or club to use the logos. In addition, any money you earn from this, even while at the NCAA or PRO levels is "grandfathered" in and not subject to their control or fee structure.
Q: Is this legal, in the eyes of the US-SEC, to buy in the United States?
A: We have been advised by our SEC specialist attorney in Chicago that since we are selling an NFT that represents a trading card, it is not a Security nor other type of investment in which there is no "ruler" to measure the profitability, thus it does not contravene their rules.
NiFTii Statistics

Number of
Members:
124
Card
Collectors:
44
Card
Creators:
38
Series
Created:
137
Cards
Minted:
14,170
Cards
Sold:
163
Value of Cards Sold: $1,671.99
Share this page by clicking on the icons below:


F.A.Q. · More Information · Team Fundraising
Privacy Policy · Data Security · GDPR Disclosure Policy
© 2023 NiFTiis.com · ALL RIGHTS RESERVED.
We do not believe in or use any tracking cookies.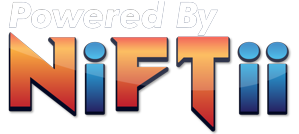 The Future Value Marketplace.